I've lived in the desert for a few years now, and although it can be an impressively beautiful place I've come to the realization that it's not the biome for me. I do enjoy a good thunderstorm out here. Actually anywhere. I just really enjoy a good thunderstorm.
******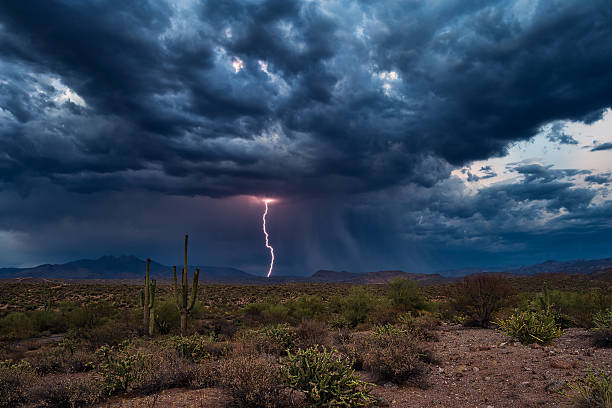 Dust flies through the air and the whip like branches of the Palo Verde slap against the house. Thunder rumbles low in the distance as the sky begins to darken. I grab my book and head outside.
Since moving to the desert I've realized I'll only get to experience my favorite weather occasionally, and I don't want to miss a single second of it. I head down to the barn where my chair is all set up to watch the storm.
The storm rolls in ferociously. High winds throwing branches, the neighbor's trash, and anything not firmly staked to the ground. The tin roof above me creaks and groans with every gust. Lightning flashes over the peaks surrounding my home. The violet white light jigs and jags through the navy clouds creating a show better than anything on tv.
The horses are amped up as they run through the paddock and toss their heads with the disturbance. Birds make their way into the rafters to hang on. My chickens scramble for their coops as the ducks make their way into the open to play in the coming rain.
I sigh as the first drops start to patter on the tin roof of the old barn. I settle back and wrap myself in a flannel that smells like hay, horses, and comfort as the sky opens and the rain begins to fall over the sun baked desert.
Soon the arroyos will flow with the water, wildlife will come out to drink, and I will feel the comfort that the wildness of the storm brings me.
*****
I hope you are enjoying this occasional foray into practicing my writing skills. They are ones that we have to continually practice or they become rusty! I'm currently working on a lot of show instead of tell as I think it makes the story more interesting. I would like readers to be able to feel and see everything I am feeling as I write.
Love y'all!